Have you ever wondered why your home gets booked so fast ahead of time for Christmas Lighting Festival and is pretty much always empty during the weekdays or the entire month of November?

Many vacation rental homeowners that were beyond excited with their homes booked close to full capacity just a year ago at the peak of the demand are now facing the reality of the 'hangover' market and seeing much fewer bookings. The reality is that even if your property is set up for success, has stellar photos and all the glowing reviews, that does not guarantee that you will automatically win the guest looking for their next vacation home in Leavenworth.

That is where modern tools like dynamic pricing and hands-on revenue management step in to optimize your revenue. In a nutshell, that vital business practice helps to fill out slow seasons and maximize rates when the demand is high. More and more industry players adopt these practices, and it has become a must-have lately to stay afloat.

Similar to the pricing tools that power hotels and airline pricing, vacation rental dynamic pricing sets and manages rates based on supply and demand for every night of the year, as well as comparable market factors particular to a home: special events, seasonality, day of the week, etc. taking the guesswork to the minimum.

There are many outstanding software providers like Beyond Pricing that help automate rates and even consider daily market fluctuations, so your pricing stays competitive literally while you sleep. But worry not, you still can set up minimum and maximum prices, last-minute discounts, min stays, and other customizations to stay in control.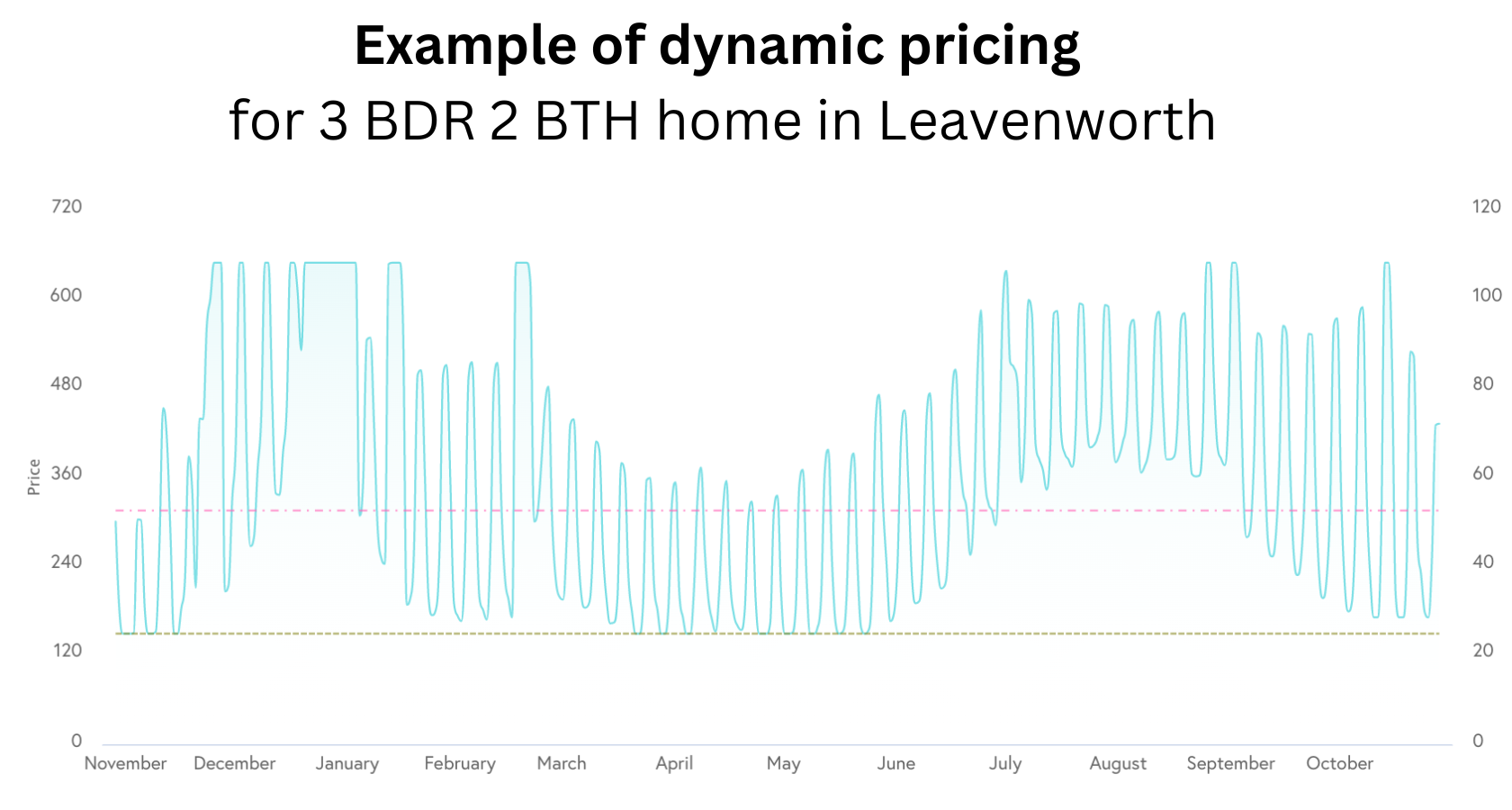 It would have been so dreamy to set it and forget it. However, as with all the automation, it does require regular managing and keeping your eyes peeled on the actual situation. Intimate knowledge of the area (like upcoming or canceled events), comparing your prices and occupancy to the most relevant competitors, and monitoring the booking pace way ahead require special knowledge and everyday work to maximize the revenue in the best possible way.

Luckily, if you are our partner, we've got you covered not only with the industry-leading dynamic pricing tool but also with local professionals who keep their hand on the pulse of every single home on a regular basis. Using a comprehensive approach to revenue optimization allows our homeowners to stay way above the competition with an average of 20% better occupancy throughout and growing their Average Daily Rates year after year. No wonder why Love Leavenworth is the most trusted property management company in the area - your success is our success!


Using comprehensive revenue management helps us get more revenue for the home. That allows our owners to make up for management fees while you enjoy STRESS-FREE excelsior services.

BOOK A CALL with us to unravel your home's revenue potential!

Love Leavenworth embraces the small business philosophies of outstanding customer service, keeping our promises, and can-do attitudes.

We also adhere to industry best practices and utilize the most efficient vacation rental software for reservations, operations, and revenue management.

In synergy, these values ensure that our guests, homeowners, and their homes receive the benefits of a well-run management company.

Have more questions? Check our FAQ section HERE

Do you Love Leavenworth as we do? Learn more about us HERE!